Robot mower sales, maintenance and installment
The mowing of the future is here. We can provide you and your garden with a robot lawn mower. This comes with skilled installment and of course warranty. We only work with two robot mower brands: Husqvarna and Kress. First mentioned brand is the marketleader in this area. Husqvarna even is already manufacturing robotic mowers since 1995. With these two brands the quality is always guaranteed and you no longer have to pay attention to your lawn.
The benefit of a robotic mower
You can always enjoy your perfectly mowed lawn with every blade of grass cut off with an accuracy of millimeters. The sound level will max at only 58 decibel, making normal mowers no competition for this! Slopes of up to 70 degrees are no problem. The robotic lawnmower can mow both at night and during the day, you hardly have to worry about it. The only maintenance is cleaning the robot a few times a year and the blades need to be replaced a few times a year depending on usage.
You will hardly notice the mowing. The mower mows quickly, quietly and efficiently. No more cuttings in the garbage can and always a great clean lawn. Our robotic mowers are fully electric, this is cost saving, environmental friendly and an electric motor hardly requires any maintenance.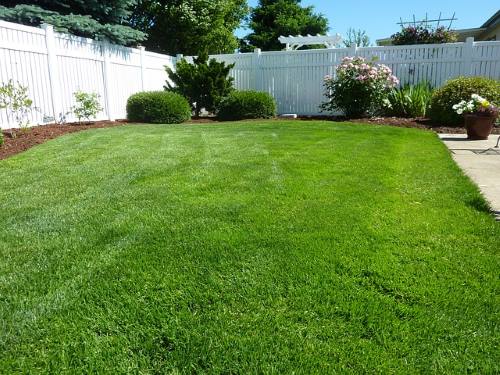 Please see the below video for more information
Robotic lawn mower installment?
We are happy to help you make the right choice for a robotic lawn mower. We have different models that meet everyone's needs. From a basic model to very exclusive models with, for example, an associated app that you can operate via your own smartphone. With the corresponding app you know when mowing is taking place, you can start, stop and change the schedule. Some models also include GPS tracking, so you can track the robotic lawnmower when it is stopped or stolen. Some robotic mowers even can connect with your smartwatch. See smart gardening for more smart solutions.
Our robotic mowers maintain lawns of up to 4000 m2 effortlessly. After the installation of the robot mower it is possible to sign in on a maintenance contract.
Don't want to face the burden for your lawn maintenance? Always have the grass in perfect condition without difficulty? Then a robotic lawnmower might be something for you. Let yourself be advised, without obligation, about the construction, maintenance and the various models. In recent years, the robotic lawnmower has become so popular that production costs, and therefore prices, are much lower than most think. So even with a relatively low budget, there is always a robotic lawnmower that can handle your lawn!
Get in touch and please send photos/videos of the lawn with the global surface.