Garden Maintenance Businesses
Garden Maintenance for Businesses
We are happy to offer our services in the business sector. We offer this service to thrive in this sector. Garden and/or green maintenance at companies is all about unburdening and strongly think along with the companies that are our customers.
The greenery that belongs to the building is the business card for customers and it also ensures better performance in the workplace. We know this all too well through our extensive experience at schools, VvE's and companies. We always deliver the best result in a pleasant way. If an urgent repair is required, we often can carry it out the same day. The contracts are clear and transparent and the garden will always look on point. Your garden, now, can serve as the business card of the company.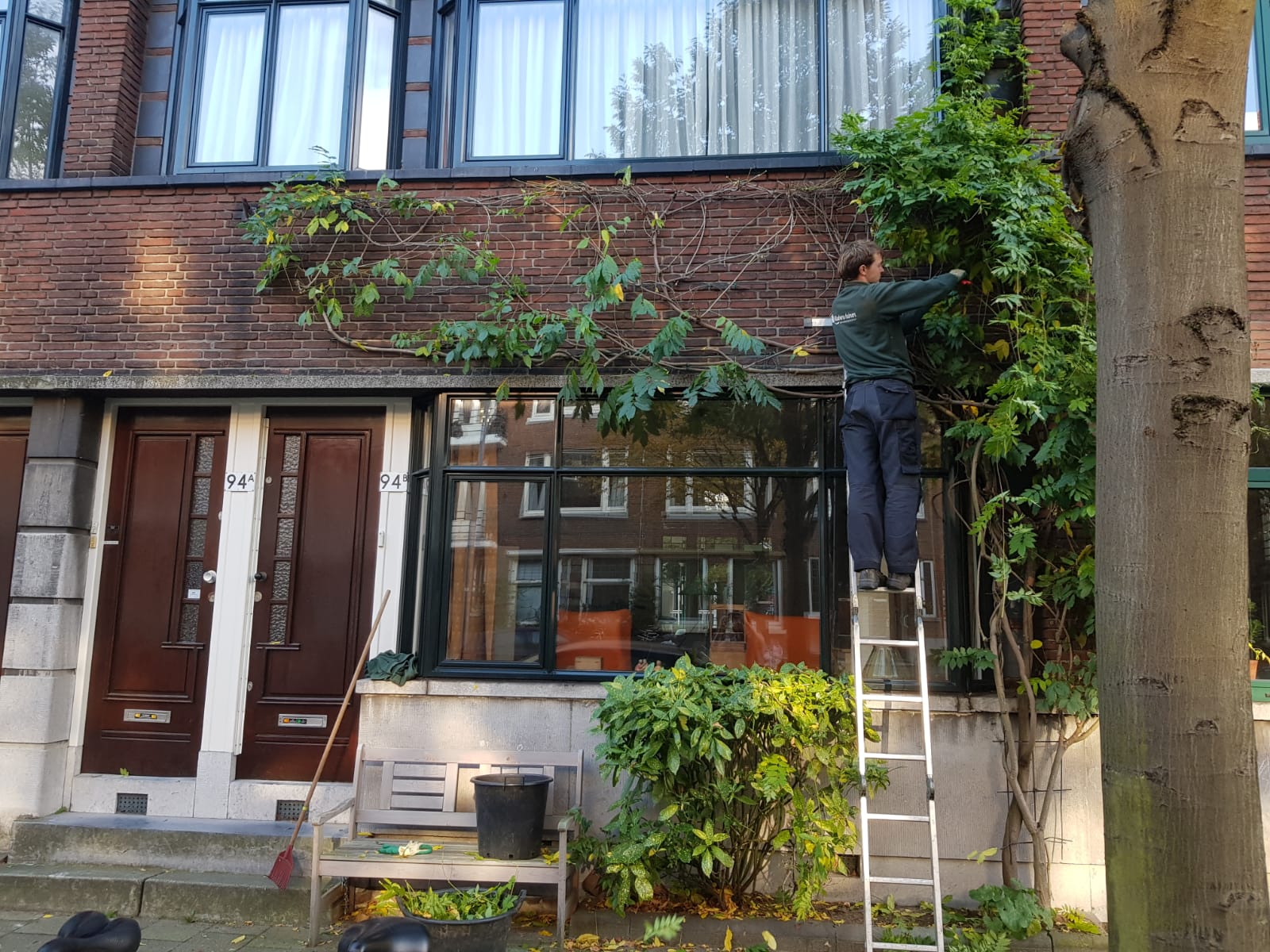 How do we Work?
First of all, we start with an introductory meeting. In this way we get a good insight into the existing wishes and preferences. Of course, we already looked carefully at all the greenery on site in advance. In this way we can immediately advise the most optimal activities. We weigh up various options that can vary in price and maintenance. This will result in a suitable customization that best suits your wishes.
The "unburdening" of our clients is something that we strongly emphasize. For us this means that you no longer have to worry about the garden, and more importantly; the confidence that the work will be done on time and properly. We often work with maintenance contracts. This clearly states the activities and the quality/results of our activities together with other important matters. It is also possible to work on a 'on demand' option, this is usually chosen by a substnatial amount of customers. We then perform the desired maintenance on call.
What do we offer?
We offer everything from A to Z for the business market, garden maintenance at companies, VvE's and organizations. That is why unburdening for us really means to unburden. Some examples of our activities:
Mowing
Prune trees, shrubs and green walls
Tree Care and Tree Safety Checks
Cutting hedges
Keep pavements and paths safe and clear weeds
Removal of green deposits
Remove and replace green
Brighten up the entrance with beautiful colorful and trendy plants
Shred all greenery and disperse the shreds
Removing wind-blown dirt
De-icing in winter
Installing garden security
Making the garden more sustainable
Repair subsidence in pavement
Repair broken rainwater drainage
Disposal of garden waste
Installing sustainable LED lighting for safety and / or atmosphere
Management of the garden with a long-term vision
Renovation of garden elements
All other forms of garden maintenance
How would your business garden look in terms of sustainability?
We can also assess the garden in terms of sustainability. How is the garden doing in terms of biodiversity? Can water be collected and possibly returned to the soil? Is the drainage sufficient? What is the vitality of the plants and trees? Do elements in the garden pose a danger to visitors or local residents? Is the soil structure healthy? We can measure the compaction of the soil and provide advice. We can elaborate on all these observations and elaborate on them in an extensive statement.
Durability
If sustainability is something your organization, company, co-residents or colleagues find important, then you've come to the right place. We have various certifications in the field of sustainable working and policy. Besides other quality marks, we have a VCA certification and this is supported by our sustainable ambitions. This ensures a garden that contributes to a healthy living environment and can last a long time due to the quality of our maintenance and, most importantly, all this achieved in a sustainable way.