Sedum roof construction
On this page you will find all information regarding sedum roofs, sometimes called a 'green roof'. What exactly is a sedum roof? How is it constructed? What are the advantages? Finally we will explain more about the costs.
What is a green roof / sedum roof
By a green roof, we mean a roof grown with plants. The best plant to cover a roof are the so-called sedum plants. That's why a green roof is often referred to as a sedum roof. Sedum belongs to the rock- and succulent plants. It has several unique characteristics which makes it favorable for roof planting. The plants require low maintenance and grow on almost every roof. It is important to make the right choice in plants for different type of roofs. For example; the one plant can stand the sun very well, while another type of sedum plant can coop very well with mostly shade.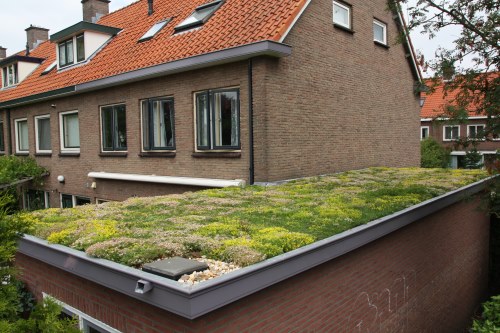 Green roof construction
It is important to construct a sedum roof in a professional manner. At first the roof must be made 100% waterproof. After this, a layer will be implemented to prevent the roots growing and damaging in to the roof. Depending on the slope of the roof an extra drainage layer will be laid. This helps the plants with better water management. Now the roof is ready for the plants to be placed.  
We work with ready-to-place sedum cassettes which makes the roof green at once. Before the construction, we create a 'roof plan' which describes all neccessary activities and the type of sedum plants to be used. This plan is made in consultation with the client. In this way, you will have the chocie between the various plants, construction methods and used materials. Finally we can unburden you with a possible subsidy application. 
Sedum roof advantages
The advantages summarized:
Doubles the lifespan of the roof;
Noise isolation;
Warmth- and cold isolation. In summer the indoor climate is colder and in winter the climate is warmer.;
increase of biodiversity;
Appealing looks!
Sustainability. The sewer is less burdened by the water retaining capabilities of the sedum.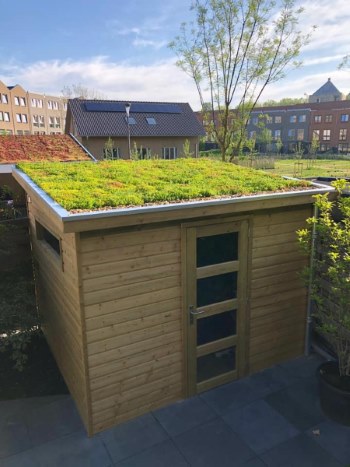 Sedum roof costs
A sedum roof is an investment in the future and adds to a more sustainable climate. This is why the governments issues subsidies to construct these roofs. In Capelle aan den IJssel u can receive €25 per square meter, green roof, subsidy. In Rotterdam this subsidy is €15 per square meter. The subsidy applies to private individuals, homeowners associations and companies. For Capelle aan den IJssel u can apply here , for Rotterdam you can apply here. For other municipalities u can check for subsidies here.
We have experience in applying for these subisides and are happy to help. Want to consult us?